Hi, everyone!
In this article, we will introduce an example of solutions using AppsME, which OPRO offers. We will explain how AppsME streamlines / simplifies work at reception desk.
Solution Outline
AppsME has a function to convert a handwriting signature to an image and upload it to cloud services. This function enables that a customer sign on a tablet terminal and you convert the handwriting sign to an image data and then upload it to docutize (Salesforce / kintone is also available), all of which you did on papers before.
The image of handwriting signature function
This solution is effective mainly in industries that involves face-to-face application work at reception desk such as service, finance / insurance, and real estate.
What's AppsME?
AppsME is an application that shares information with Salesforce / kintone in real time, making the most of mobile terminal's usability. You can use AppsME in offline environment, or you can register data with your mobile terminal even in the place where Internet service is unavailable. (iOS, Android, Windows 10 compatible)

What's docutize?
docutize is a form portal service developed for form work. This time, we use it as a storage for information entered from AppsME.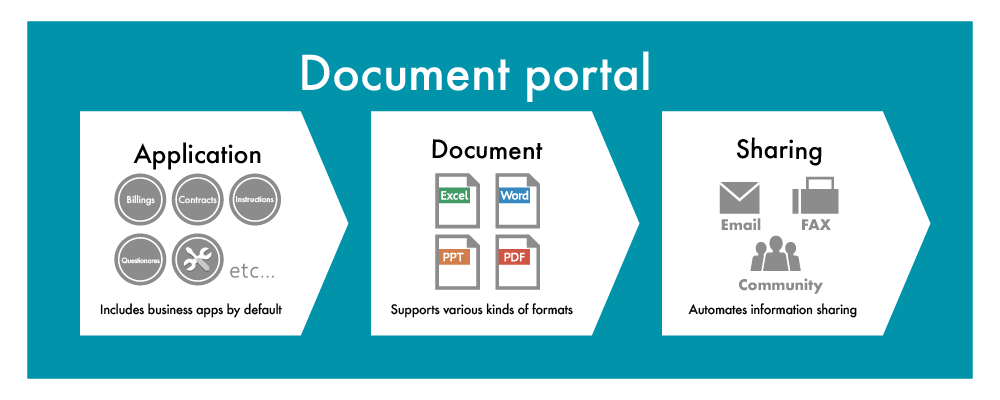 Main effects
By making application work paperless, it is expected that you 1. save a lot of time to enter data, 2. reduce paper / printing cost, and 3. streamline data management.
Saving time to enter data

Application information entered by a customer is directly uploaded to the cloud, so the effort of data input work will be significantly reduced. In addition, the risk of typing error and misreading will also be reduced because there's no need for data transcription to system anymore.

Reducing cost of paper / printing

As you enter data on your tablet terminal, paper cost and printing cost, both of which were necessary before, will be reduced.

Efficient data management

Information management that tends to be complicated will be done more efficiently by central management in the cloud. Sophisticated search function will quickly lead you to necessary information.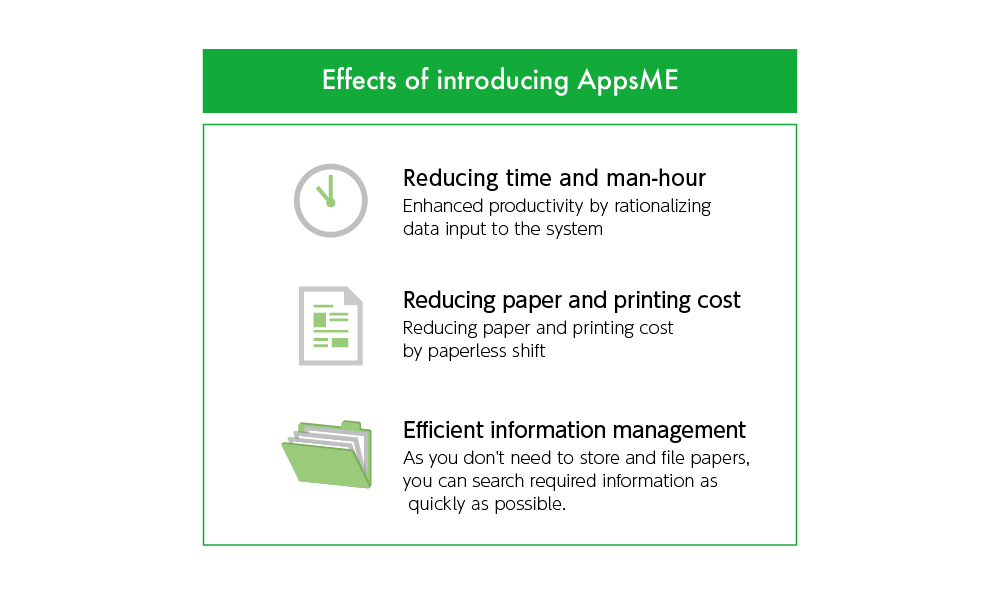 Using customized layout for input screen
As you think of switching from paper-based application work to mobile-based application work, you realize that implementation is difficult because users feel uneasy about huge difference between mobile input and handwriting on paper forms.
AppsME has customized layout function, which reproduce the same layout as that of a paper application form. This function makes users who get confused about using mobile terminals feel easy, which promotes implementation. In addition, customized layout can be intuitively created on a web browser.
A customized layout is like this. The same layout as that of paper form can be reproduced.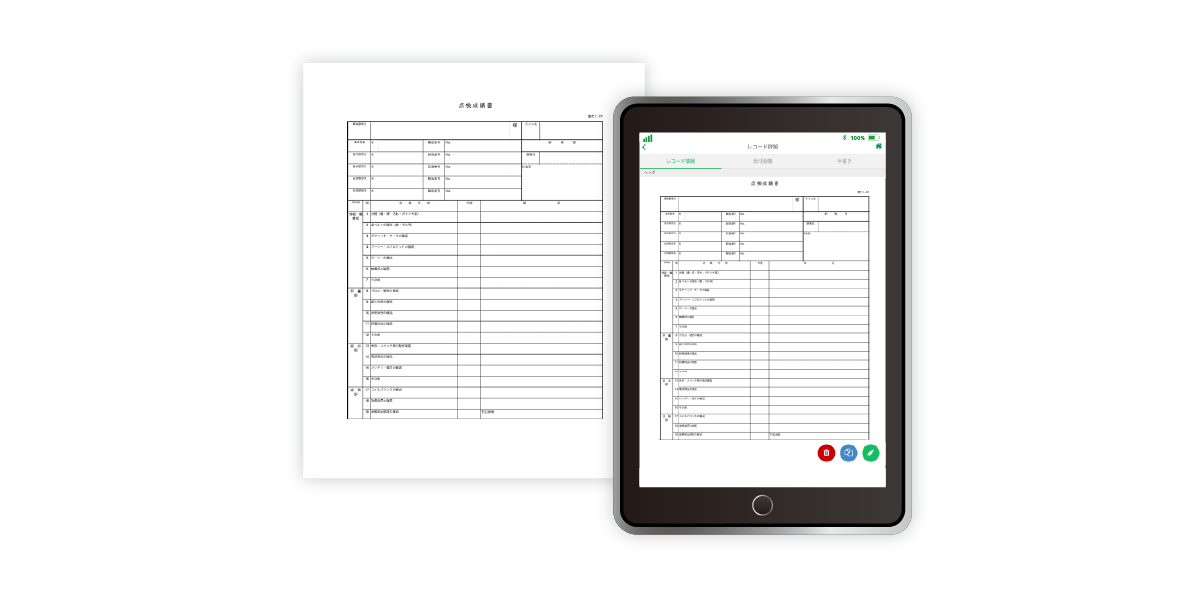 Actual work flow
The actual reception work with AppsME will be as follows.
Enter customer's application information in a tablet's screen. At this time, customer also writes his/her signature on the tablet terminal with each information to be entered from input form.

AppsME's handwriting sign function converts customer's signature to an image and stores it in the terminal.

After entering information, you upload application information including handwriting signature image to docutize (Salesforce / kintone is also available). Since AppsME supports offline environments, you can upload information you entered while you were in offline environment when you are in online environment.

Application information uploaded to docutize can be flexibly used in various ways such as form output (supporting Excel, Word, PDF), email / FAX distribution, and report display.
Conclusion
Now, do you have some images about reception work with AppsME?
AppsME has some characteristics such as
You can reproduce the same layout as that of paper application form in order for users not to confuse
You can use AppsME at reception desks even if connection id unstable because AppsME supports offline input
Admin can restrict the items that can be entered from mobile terminals
Uploaded application information can be instantly used in the cloud
and is the best application for the work we addressed in this article.
Thank you for reading this article!